Employment Blog August 2019
This employment blog is from the U S Department of Labor, Bureau of Labor Statistics. Nonfarm payroll employment increased by 164,000 in July, and the unemployment rate was unchanged at 3.7 percent. Notable job gains occurred in professional and technical services, health care, social assistance, and financial activities. The July increase in payroll employment was in line with the average monthly job gain in the first half of the year (+165,000), but below the average monthly job gain of 223,000 for 2018. (Incorporating revisions for May and June, which decreased employment by 41,000, monthly job gains have averaged 140,000 over the past 3 months.) This information is detailed in the charts below.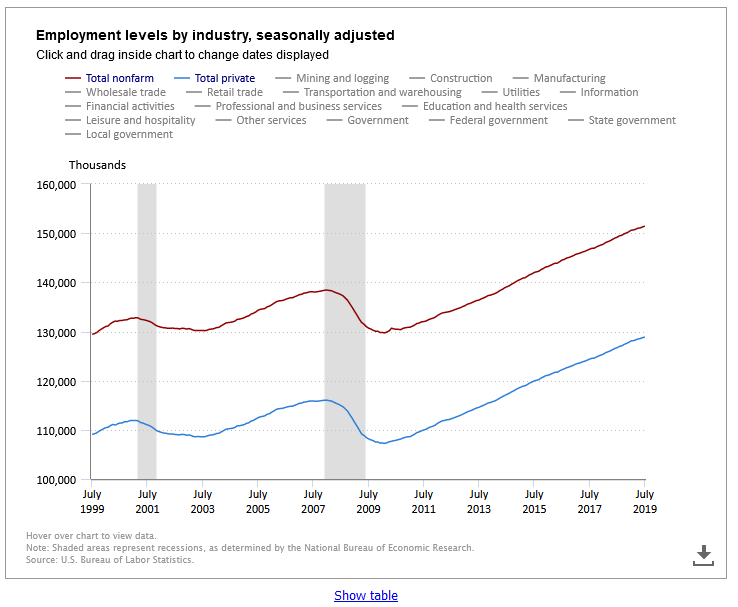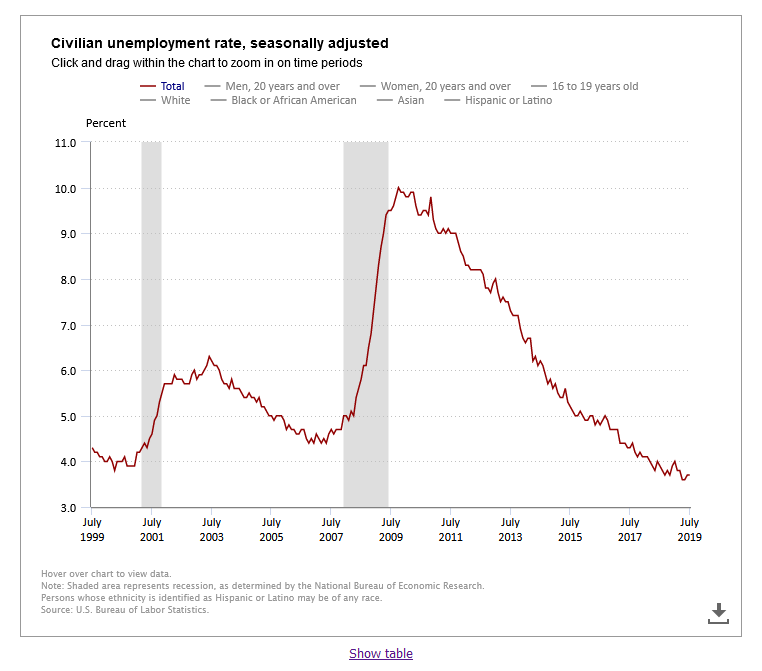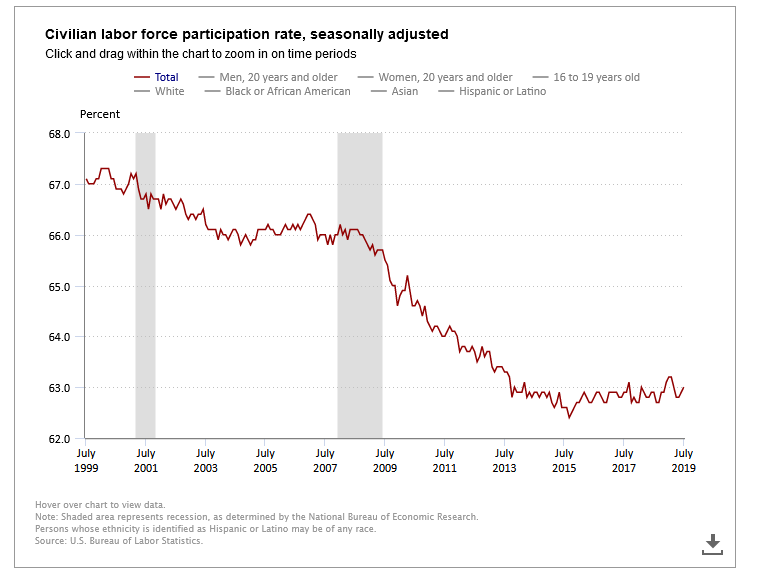 Employment in professional and technical services rose by 31,000 in July; the industry has added 300,000 jobs over the past 12 months. Employment in computer systems design and related services rose by 11,000 over the month. Although it represents about one-fourth of the jobs in professional and technical services, computer systems design accounted for about one-third of the job growth in professional and technical services both over the month and over the year.
Health care added 30,000 jobs in July, in line with average monthly job growth over the prior 12 months. The July gains occurred almost entirely in ambulatory health care services (+29,000), notably in home health care (+11,000).
In July, employment in social assistance rose by 20,000, mostly in individual and family services (+13,000). Over the year, social assistance has added 143,000 jobs.
Financial activities employment grew by 18,000 in July. Within the industry, insurance carriers and related activities added 11,000 jobs.
Mining employment declined by 5,000 in July, after showing little net change in recent months.
Employment in manufacturing changed little in July (+16,000). Thus far this year, job growth in the industry has been markedly slower than in 2018.
Employment growth in manufacturing has averaged 8,000 per month through July of this year, compared with 22,000 per month in 2018. The manufacturing workweek declined by 0.3 hour to 40.4 hours in July and is down by 0.6 hour since a recent peak in August 2018. Manufacturing hours are at their lowest point since November 2011. In July, factory overtime edged down by 0.2 hour to 3.2 hours.
Construction employment was essentially flat in July (+4,000). Thus far this year, job growth in construction has slowed to an average of 15,000 per month, compared with 26,000 per month in 2018.
Employment changed little over the month in other major industries–including wholesale trade, retail trade, transportation and warehousing, information, leisure and hospitality, and government.