Employment Blog December 2020
This employment blog is taken from the U S Department of Labor, Bureau of Labor Statistics. Nonfarm payroll employment increased by 245,000 in November, and the unemployment rate edged down to 6.7 percent. These improvements reflect the continued resumption of economic activity that had been curtailed due to the coronavirus (COVID19) pandemic and efforts to contain it. However, the pace of improvement in the labor market has moderated in recent months. In November, private nonfarm employment rose by 344,000, while employment in government declined by 99,000. In the private sector, notable employment gains occurred in transportation and warehousing, professional and business services, and health care, while retail trade lost jobs. The November increase in nonfarm payroll employment marked the 7th consecutive month of job gains, although the magnitude was considerably lower than in the prior 6 months. Employment is down by 9.8 million (or 6.5 percent) since February, before the onset of the pandemic in the United States. Although the unemployment rate edged down in November, the jobless rate and the number of unemployed people are up by 3.2 percentage points and 4.9 million, respectively, since February.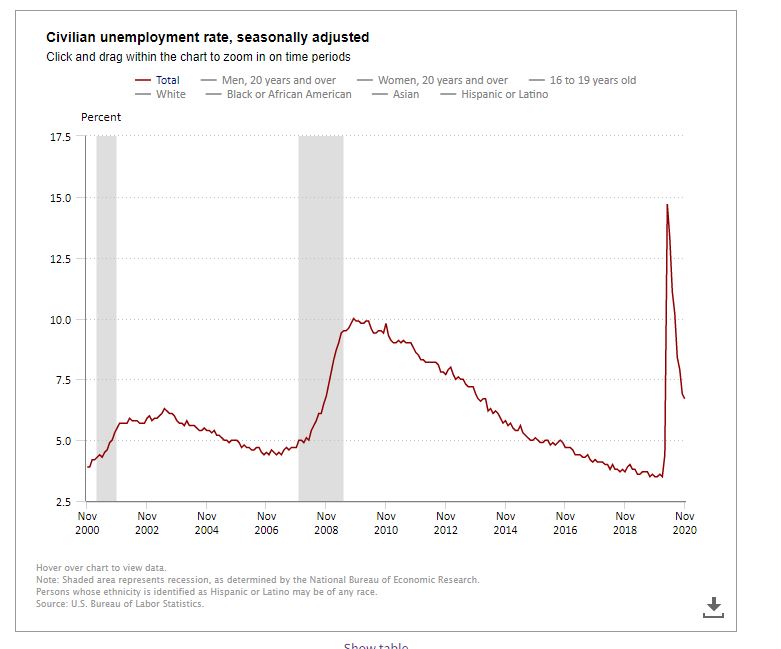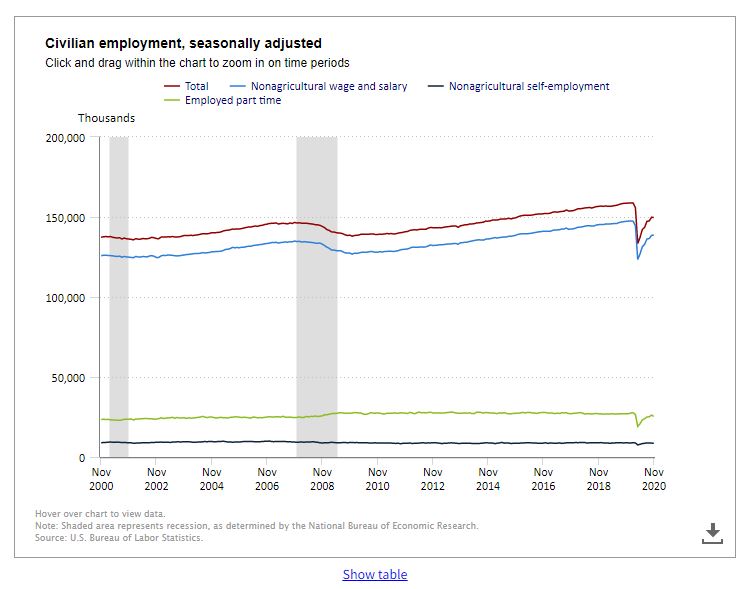 Taking a closer look at the November payroll data, employment in transportation and warehousing grew by 145,000, representing nearly three-fifths of the over-the-month growth in total nonfarm employment. Within transportation and warehousing, employment rose over the month in couriers and messengers (+82,000), warehousing and storage (+37,000), and truck transportation (+13,000). Transportation and warehousing lost 595,000 jobs in March, April, and May combined. Since May, the industry has regained 472,000, or nearly 80 percent, of the jobs lost in the early months of the pandemic.
In November, professional and business services added 60,000 jobs, with about half the gain occurring in temporary help services (+32,000). Services to buildings and dwellings added 14,000 jobs. Since February, employment in professional and business services is down by 1.1 million.
Employment in health care increased by 46,000 in November but is down by 527,000 since February. Over the month, job gains occurred in offices of physicians (+21,000), home health care services (+13,000), and offices of other health practitioners (+8,000). Employment in nursing care facilities declined by 12,000 in November and by 147,000 since February.
Construction employment increased by 27,000 in November. Job gains occurred in residential specialty trade contractors (+14,000) and in heavy and civil engineering construction (+10,000). Since February, construction employment is down by 279,000.
Manufacturing employment grew by 27,000 in November but is down by 599,000 since February. Over the month, employment increased in motor vehicles and parts (+15,000), plastics and rubber products (+5,000), and furniture and related products (+3,000).
In November, employment in financial activities rose by 15,000, with gains in real estate (+10,000) and nondepository credit intermediation (+8,000).
Employment in wholesale trade continued to trend up in November (+10,000), driven by job growth in its durable goods component (+14,000).
Employment in government declined by 99,000 in November. Federal government employment was down by 86,000, reflecting a loss of 93,000 temporary workers who had been hired for the 2020 Census. Employment in local government education continued to trend down (-21,000).
Retail trade lost 35,000 jobs in November, and employment in the industry is down by 550,000 since February. In November, job losses occurred in general merchandise stores (-21,000); sporting goods, hobby, book, and music stores (-12,000); electronics and appliance stores (-11,000); and health and personal care stores (-8,000). These job losses were partially offset by small gains in furniture and home furnishings stores (+6,000) and automobile dealers (+4,000).
Employment in leisure and hospitality changed little in November (+31,000). Within the industry, employment in food services and drinking places changed little over the month (-17,000) and is down by 2.1 million since February.
Employment in arts, entertainment, and recreation increased by 43,000 in November.
Employment in other major industries–including mining, information, and other services–showed little change over the month.
Real average hourly earnings for all employees increased 0.1 percent from October to November,seasonally adjusted, the U.S. Bureau of Labor Statistics reported today. This result stems from an increase of 0.3 percent in average hourly earnings combined with an increase of 0.2 percent in the Consumer Price Index for All Urban Consumers (CPI-U). Real average weekly earnings increased 0.1 percent over the month due to the change in real average hourly earnings combined with no change in the average workweek.