Employment Blog November 2019
This employment blog is from the US Department of Labor, Bureau of Labor Statistics. Nonfarm payroll employment increased by 128,000 in October, and the unemployment rate was little changed at 3.6 percent. Notable employment gains occurred in food services and drinking places, social assistance, and financial activities. Within manufacturing, employment declined in motor vehicles and parts due to strike activity. Federal government employment was down, reflecting a drop in the number of temporary jobs for the 2020 Census. Incorporating revisions for August and September, which increased nonfarm payroll employment by 95,000, monthly job gains have averaged 176,000 over the past 3 months. Job growth has averaged 167,000 per month thus far in 2019, compared with an average gain of 223,000 per month in 2018. This information is detailed in Charts 1 and 2 below.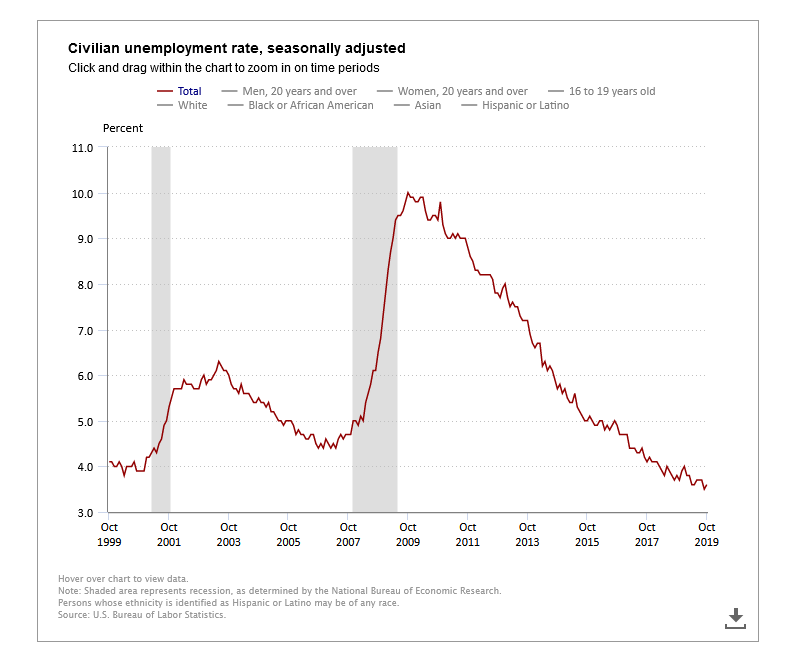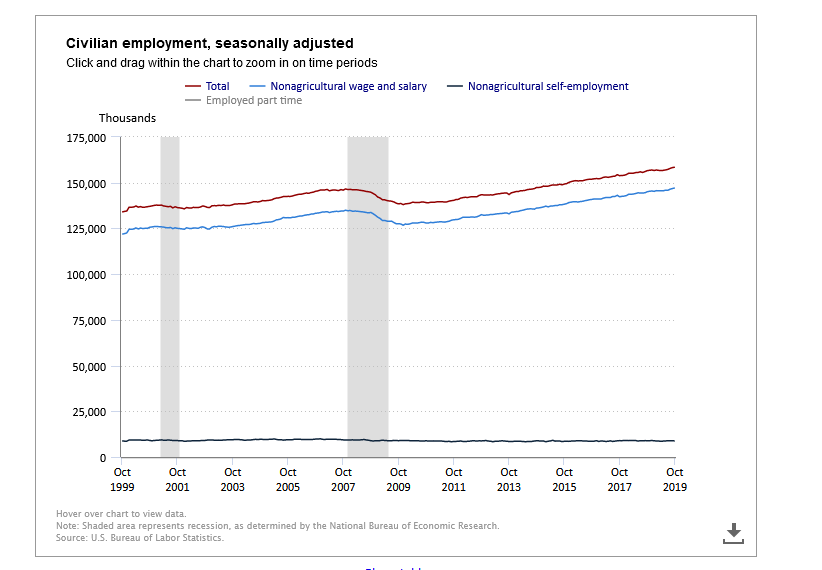 Employment in food services and drinking places rose by 48,000 over the month. Monthly job growth in the industry has averaged 38,000 over the past 3 months, compared with an average monthly gain of 16,000 in the first 7 months of 2019.
Social assistance added 20,000 jobs in October, with most of the gain occurring in individual and family services(+17,000).Over the past 12 months, employment in social assistance has increased by 139,000.
In October, financial activities added 16,000 jobs. Within the industry, employment increased in real estate and rental and leasing (+10,000) and in credit intermediation and related activities (+6,000).
Over the month, employment continued to trend up in professional and business services (+22,000) and in health care (+15,000).
Manufacturing employment declined by 36,000 in October. Employment in motor vehicles and parts manufacturing decreased by 42,000, reflecting strike activity.
Within government, federal employment declined in October (-17,000), as 20,000 temporary workers who had been preparing for the 2020 Census completed their work.
In October, employment changed little in other major industries–including mining, construction, wholesale trade, retail trade, transportation and warehousing, and information.
Percent of Weeks Employed, Unemployed, and Not in the Labor Force. On average, the youngest baby boomers (born 1957-64) were employed during 78 percent of all the weeks from ages 18 to 52. They were unemployed—that is, without jobs but seeking work—5 percent of the weeks. They were not in the labor force—that is, neither working nor seeking work—18 percent of the weeks. The amount of time spent employed differed substantially between those without a high school diploma and those who had graduated from high school or attained higher levels of education. Individuals with less than a high school diploma (as of the 2016-1 7 survey) spent 59 percent of weeks employed and 33 percent of weeks out of the labor force from ages 18 to 52. By comparison, high school graduates spent 76 percent of weeks employed and 18 percent of weeks out of the labor force, while those with a bachelor's degree and higher spent 84 percent of weeks employed and 13 percent of weeks out of the labor force.White high school graduates with no college were employed a higher percentage of weeks and out of the labor force a smaller percentage of weeks than Black and Hispanic or Latino high school graduates with no college.Between the ages of 18 and 52, White high school graduates with no college spent 79 percent of weeks employed and 16 percent of weeks out of the labor force, while Black high school graduates with no college spent 65 percent of weeks employed and 25 percent of weeks out of the labor force and Hispanic or Latino high school graduates with no college spent 73 percent of weeks employed and 21 percent of weeks out of the labor force. Among those with a bachelor's degree and higher, however, there was little difference among racial and ethnic groups in labor market attachment; each group spent between 83 percent and 85 percent of weeks employed. (See chart 3.)