This employment blog is taken from the Bureau of Labor Statistics, U S Labor Department. Nonfarm payroll employment increased by 304,000 in January, and the unemployment rate edged up to 4.0 percent. Job gains occurred in a number of industries, including leisure and hospitality, construction, health care, and transportation and warehousing. Incorporating revisions for November and December, which decreased nonfarm payroll employment by 70,000, on net, monthly job gains averaged 241,000 over the past 3 months. This is detailed in Charts 1 and 2 below.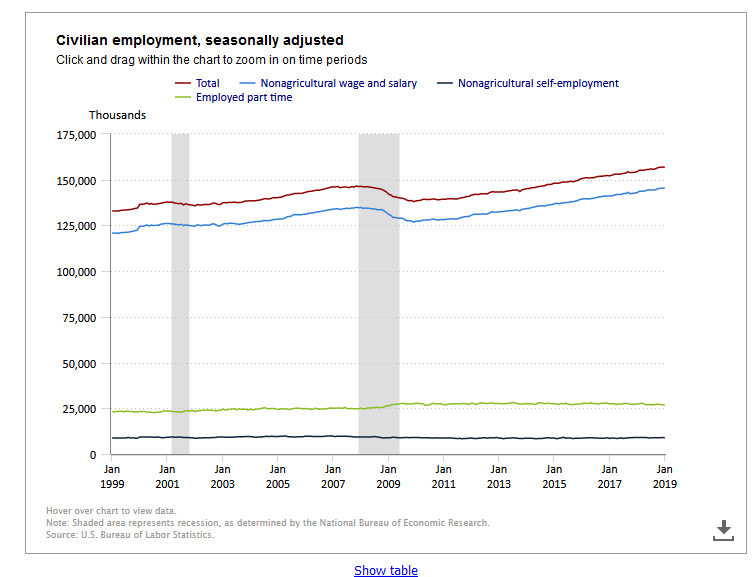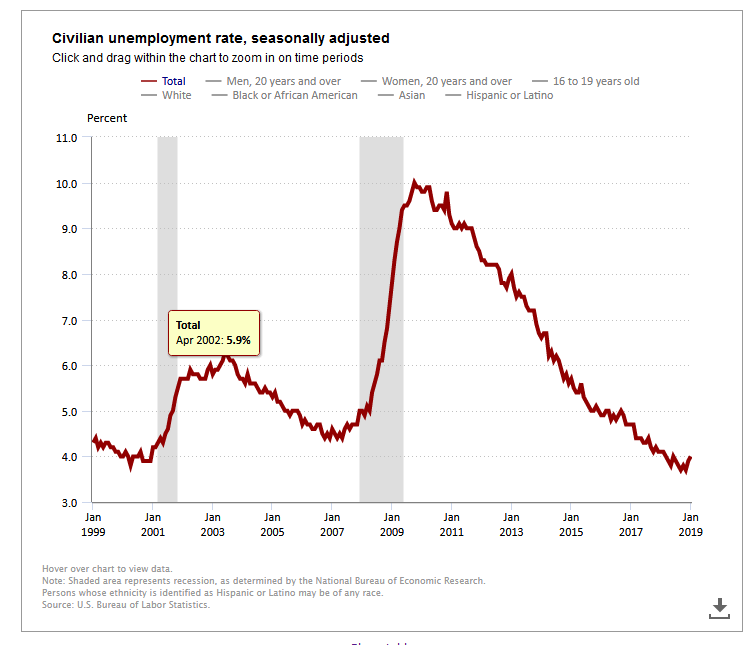 Our evaluation of the establishment survey data indicates that there were no discernible impacts of the partial federal government shutdown on the January estimates of employment, hours, or earnings. Federal government employment was essentially unchanged over the month (+1,000). Federal employees on furlough during the shutdown were considered employed in the establishment survey because they worked or received pay (or will receive pay) for the survey's reference period, which is the pay period that includes the 12th of the month. It is likely that some private industries were affected by the shutdown; however, we are not able to quantify the impacts.
Employment in leisure and hospitality increased by 74,000 in January. Within the industry, food services and drinking places (+37,000) and amusements, gambling, and recreation (+32,000) added jobs. Over the year, leisure and hospitality added 410,000 jobs.
Construction employment rose by 52,000 in January, with gains in specialty trade contractors (+34,000), heavy and civil engineering (+10,000), and residential building (+9,000). Over the year, construction employment increased by 338,000.
Health care added 42,000 jobs in January. Within the industry, employment rose in ambulatory care services (+22,000) and hospitals (+19,000). Over the past 12 months, health care employment increased by 368,000.
In January, employment in transportation and warehousing rose by 27,000, with gains in warehousing and storage (+15,000) and among couriers and messengers (+7,000). Over the year, transportation and warehousing added 219,000 jobs.
Retail trade employment edged up by 21,000 in January. Sporting goods, hobby, book, and music stores added jobs over the month (+17,000), while general merchandise stores lost jobs (-12,000). Overall, employment in retail trade has shown little net change over the year (+26,000).
Mining employment rose by 7,000 in January and by 64,000 over the year, mostly in support activities for mining.
Employment continued to trend up in professional and business services in January (+30,000). Over the past 12 months, this industry has added 546,000 jobs.
Manufacturing employment continued to trend up in January (+13,000). Durable goods added 20,000 jobs over the month, while employment in nondurable goods changed little (-7,000). Over the year, manufacturing employment has increased by 261,000, with more than four-fifths of the gain in durable goods industries.
Employment in other major industries–including wholesale trade, information, and financial activities–showed little change over the month.
Average hourly earnings of all employees on private nonfarm payrolls rose by 3 cents in January to $27.56, following a 10-cent increase in December. Over the past 12 months, average hourly earnings have grown by 3.2 percent. From December 2017 to December 2018, the Consumer Price Index for All Urban Consumers (CPI-U) increased by 1.9 percent (on a seasonally adjusted basis).
Turning to measures from the household survey, both the unemployment rate, at 4.0 percent, and the number of unemployed people, at 6.5 million, edged up in January. The impact of the partial federal government shutdown contributed to the uptick in these measures.
Real average hourly earnings for all employees increased 0.2 percent from December to January, seasonally adjusted, the U.S. Bureau of Labor Statistics reported today. This result stems from a 0.1-percent increase in average hourly earnings combined with no change in the Consumer Price Index for All Urban Consumers (CPI-U).Real average weekly earnings increased 0.1 percent over the month due to the change in real average hourly earnings combined with no change in the average workweek. This detailed in Chart 3 below.