Employment Blog-October 2017
October's Employment Blog is taken from the Bureau of Labor Statistics, U S Department of Labor. The unemployment rate declined to 4.2 percent in September. Nonfarm payroll employment changed little (-33,000), after adding an average of 172,000 jobs per month over the prior 12 months. In September, a sharp employment decline in food services and drinking places and below-trend growth in some other industries likely reflected the impact of Hurricanes Irma and Harvey.  This information is detailed in Charts 1 and 2 below.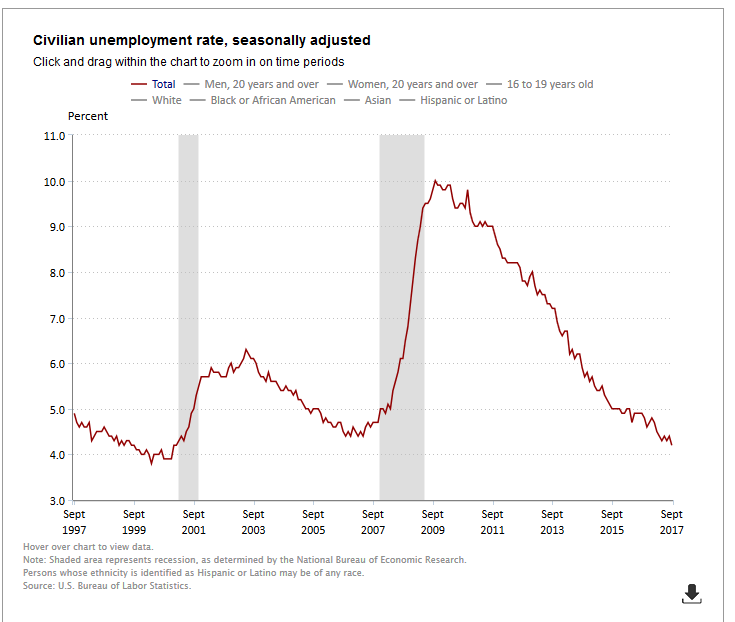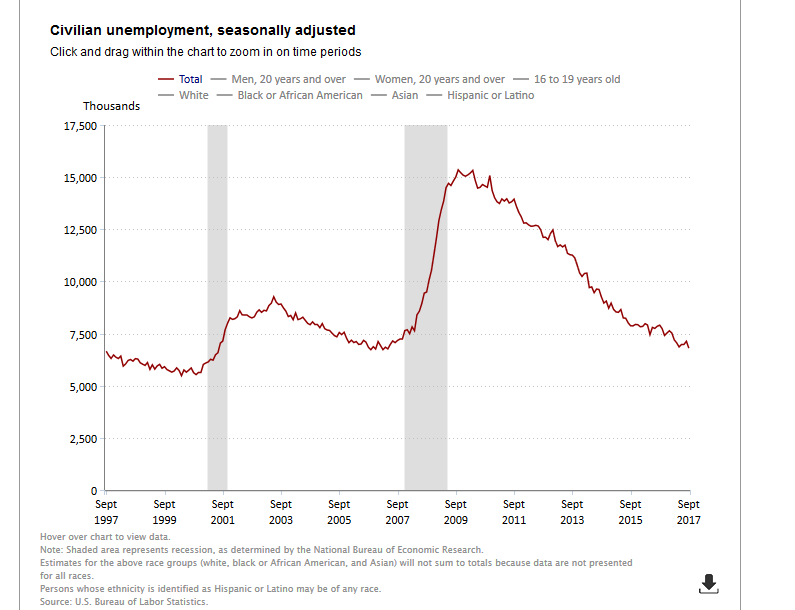 Looking at some of the industry detail from the establishment survey, employment in food services and drinking places declined by 105,000 in September. In this industry, a large majority of workers are not paid when they are absent from work. Hence, if these employees were unable to work during the September survey reference pay period because they had evacuated, or because their establishments were not open for business due to power failures or other effects of the hurricanes, they were not included on September payrolls. Over the 12 months prior to September, food services and drinking places had added an average of 24,000 jobs per month.
Health care employment increased by 23,000 in September, in line with the average monthly job gain over the prior 12 months.
Employment in transportation and warehousing increased by 22,000 in September.
Payroll employment in other major industries, including mining, construction, manufacturing, wholesale trade, retail trade, information, financial activities, professional and business services, and government, changed little over the month. It is likely that employment in some of these industries was affected by the hurricanes, both in terms of employment declines due to the storms and job gains associated with recovery and rebuilding efforts. However, it is not possible to quantify precisely the net effect on employment in each industry.
Average hourly earnings of all employees on private nonfarm payrolls increased by 12 cents in September. The change in earnings reflects both ongoing labor market trends and possible effects of the hurricanes. Over the past 12 months, average hourly earnings have risen by 2.9 percent.
The Consumer Price Index for All Urban Consumers (CP I-U) rose 0.4 percent in August on a seasonally adjusted basis, the U.S. Bureau of Labor Statistics reported today. Over the last 12 months, the all items index rose 1.9 percent. This information is detailed in Chart 3 below.