Employment Blog February 2017
This report is from the U S Department of Labor, Bureau of Labor Statistics. Nonfarm payroll employment rose by 227,000 in January, and the unemployment rate was little changed at 4.8 percent. Job gains occurred in retail trade, construction, and financial activities. In 2016, job gains averaged 187,000 per month. Incorporating revisions for November and December, which decreased nonfarm payroll employment by 39,000 on net, monthly job gains have averaged 183,000 over the past 3 months. Charts 1 and 2 below detail the 12 months unemployment rates and the monthly job gains. Chart 3 details the unemployment rate based the highest level of education attained.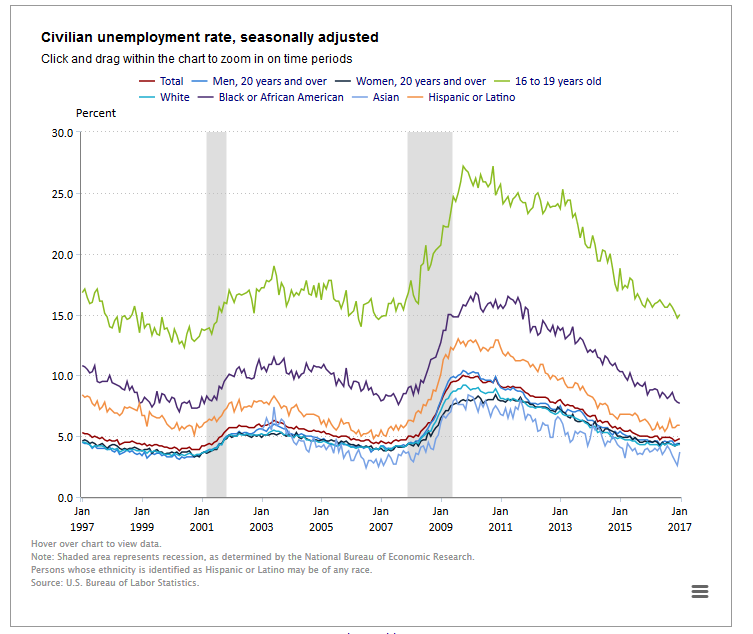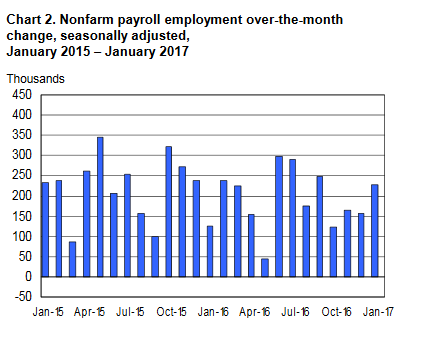 Retail trade employment rose by 46,000 in January and by 229,000 over the year. Three industries added jobs in January–clothing and clothing accessories stores (+18,000), electronics and appliance stores (+8,000), and furniture and home furnishing stores (+6,000).
Construction employment rose by 36,000 in January. Employment increased in residential building (+9,000) and continued to trend up among residential specialty trade contractors (+11,000). These residential components have accounted for three -fourths of the 170,000 jobs gained in construction over the past 12 months.
Financial activities added 32,000 jobs in January. The industry added an average of 15,000 jobs per month in 2016. Over the month, gains occurred in real estate (+10,000), insurance (+9,000), and credit intermediation (+9,000).
Employment growth continued in professional and technical services (+23,000), in line with the average monthly gain over the prior year. In January, computer systems design added 13,000 jobs.
Employment in food services and drinking places continued to trend up in January (+30,000). The industry has added 286,000 jobs in the past 12 months.
Health care employment also continued to trend up in January (+18,000), following a gain of 41,000 in December. Over the past 12 months, health care has added 374,000 jobs.
Average hourly earnings of all employees on private nonfarm payrolls rose by 3 cents in January, following a gain of 6 cents in December. Over the past 12 months, average hourly earnings have risen by 2.5percent. From December 2015 to December 2016, the Consumer Price Index for All Urban Consumers (CPI-U) increased by 2.1 percent (on a seasonally adjusted basis).